Notes of Hope: Say Hi to Dawn
Welcome CSCGLV's New Child, Teen, and Family Coordinator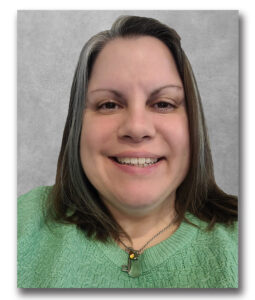 Hi everyone, my name is Dawn Nycz, and I am the new Child, Teen, and Family Coordinator here at the Cancer Support Community. I am excited to be part of this amazing team and to be able to provide support to our children and families.
I have always enjoyed working with children; kids are naturals at communicating through play. And what's more fun than play? Maybe my connection to families started from when I was a child growing up with 3 older brothers and over 30 first cousins. We certainly knew how to play and have fun! And our family just kept growing with nieces, nephews, and more cousins. I loved helping to care for each of them, and I knew as I got older, I wanted to enter a profession to help and care for others. I tried my hand at Emergency Medical Services/Fire and Safety Rescue but I wanted more of a social and emotional connection to the families I served. So I pursued a degree in Social Work. I went to Monmouth University in New Jersey for my Bachelors in Social Work and then went to the University of Pennsylvania for my Masters in Social Work. I have worked with children and families in Behavioral Health, Foster Care and Adoption, preschool, and daycares. And now, my journey continues here at the Cancer Support Community.  
Perhaps my draw to the Cancer Support Community was not only professional, but also personal. A few years ago, my father passed away from cancer. I remember the crazy emotional roller coaster that my family and I were on and the multitude of challenges we faced, especially with supporting the young children in our family.  Unfortunately, we did not know about the Cancer Support Community, but did our best to navigate and support each other through that difficult time. So now, I have the opportunity to be part of a team that can provide that much needed support to many children and families just like you.
Keeping in line with the mission and vision of the Cancer Support Community, we would like to offer more programming that supports and strengthens our families through education, social interaction, and of course play and fun! My goal is for us to be a solid resource that you and your family will feel connected to and want to be a part of. After all, there is no community without each of you. I want kids and families to be able to strengthen their relationships with each other, build new supportive relationships with others, have a greater understanding of their needs, and have a stronger sense of hope than when they started this journey. I think we can do that through a variety of ways, such as individual or family support sessions, fun monthly family night activities (like games, karaoke, and art projects), monthly Kids Club, children/teen/family support series, and group therapeutic activities like sand tray therapy. I am excited and thankful to be part of this team, part of your recovery and growth, and part of this community. And I am looking forward to meeting each of you!